International Symposium: A Smart Sustainable Future for All 2018
We are pleased to announce the success of the first international symposium and workshops, A Smart Sustainable Future for All – Enhancing Resilience in a Changing Landscape(SSF 2018), from 24 – 26 September 2018 at the University of Melbourne.
Our event was co-hosted by the Centre for Spatial Data Infrastructures and Land Administration (CSDILA), in co-partnership with the World Bank (Global Facility for Disaster Reduction and Recovery, and the Social, Urban, Rural and Resilience Global Practice), and supported by a number of national and international organisations.
The Symposium hosted over 150 national and international speakers, including a variety of experts and representatives from academia, government and industry. The symposium created an ideal environment for informed discussion and for promoting a collaborative effort towards a smart sustainable future for all.
As part of the event we were pleased to host two workshops, the first was led by CSDILA, with speakers from the Centre and Land Use Victoria, on 'Smart Land and Urban Data Management'. The second was presented by Bob Jensen, an expert in disaster management from the USA and Senior Managing Director of Strat3 on 'Leadership During Crisis and Developing Next Generation Emergency Management Teams'. Both workshops were well received and we are grateful to those who contributed to ensuring their success.
In addition, we hosted a free ePlan workshop in collaboration with Land Use Victoria (LUV), Department of Environment, Land, Water and Planning (DELWP), on the current and future developments of ePlan in Victoria. CSDILA are currently partnered with LUV to modernise the land subdivision process as part of the ePlan initiative.We welcomed presenters from LUV, including Mark Briffa, Manager of Electronic Subdivisions Unit; Dr Hamed Olfat, ePlan Coordinator; and Craig Sandy, Surveyor General We also welcomed Tom Champion, Associate Director of Reeds Consulting, and members from the surveying industry. This was an excellent workshop that received a lot of positive feedback. Thank you to LUV for their support and contributions to this event.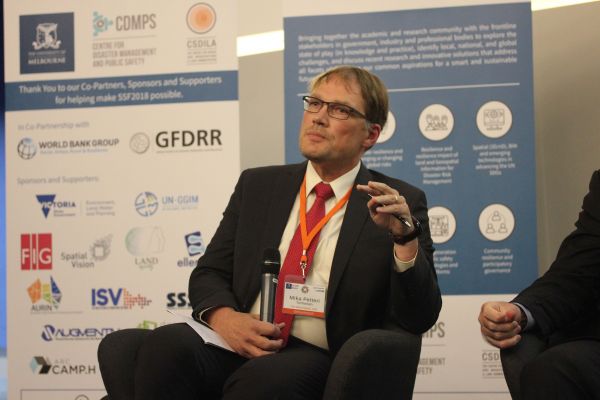 On the third anniversary of the United Nations Sustainable Development Goals(SDGs), we launched the Blueprint for Disaster Management Supporting the SDGs, where senior executives, includingAnna Wellenstein, Director of Strategy and Operations, the World Bank; Mark Crosweller, Head of the National Resilience Taskforce, Department of Home Affairs, Australian Government; and Assistant Commissioner Debra Abbott, Victoria Police, commented on the significance of the research.
CDMPS and CSDILA will continue the discussion on sustainability and smart cities and hope that this event was a step toward building a smart sustainable future for all. We hope that you will join our collaborative effort towards achieving this goal.