Centre for Disaster Management and Public Safety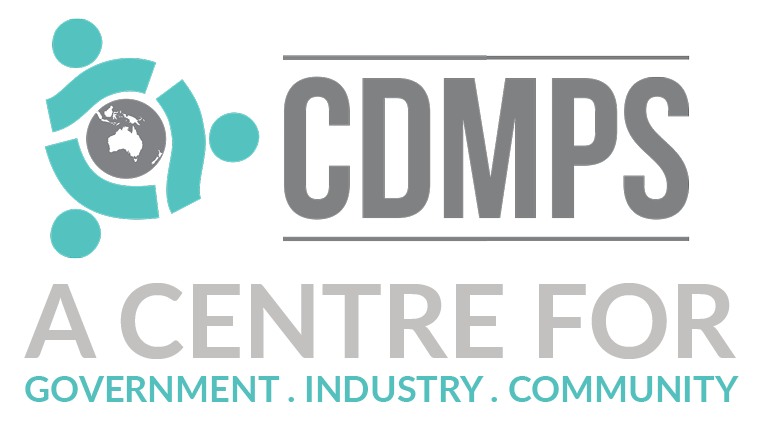 Delivering world-class interdisciplinary research and innovation to improve the whole-system response and resilience of infrastructure, institutions and communities against extreme events and critical incidents, and contribute to the UN Sustainable Development Goals.
The Centre for Disaster Management and Public Safety (CDMPS) strives to promote disaster management research at the University of Melbourne. It fosters interdisciplinary research collaborations, provides training and skills development for our community of researchers, and promotes knowledge exchange and impact with regional, national and international stakeholders.
The Centre provides research facilities for disaster management researchers at Masters level and above. The building provides a workspace for higher degree researchers, doctoral and postdoctoral researchers, as well as visiting scholars and research groups. The Centre hosts a wide range of collaborative, training and engagement activities.
Through consultation with key stakeholders and a review of research on major disasters and further review in 2016, we have identified five key priority areas that are critical for enhancing disaster management practice and policy:
Understanding and mitigating extreme events and critical incidents
Enabling technology, informatics and analytics
Improving whole-life infrastructure system performance and resilience
Strengthening organisational, institutional and community resilience
Enhancing policy and decision making
The Centre was established in 2014 at the University of Melbourne.
We welcome questions about the Centre and suggestions for research and engagement activities. Contact us at cdmps-info@unimelb.edu.au.
Download the flyer
In addition to our ongoing research within CDMPS, we continually monitor local and global events, and when these fall within areas of our expertise we aim to find a way to respond and make a positive contribution towards overcoming these challenges. Across Australia and globally, the last several months have presented several significant challenges that the CDMPS have responded to in multiple ways:
Responding to COVID-19
In response to the global pandemic CDMPS has collaborated with Victoria Police to develop a platform to support their current activities in relation to the outbreak of COVID-19 in Victoria. In particular, the platform supports the activities of their staff embedded within the State Coordination Centre working directly with Emergency Management Victoria
The CDMPS platform provides the following services:
Analytic capabilities for multi sourced data integration and cross checks with data streams accessible by Victoria Police
Victoria Police manages large volumes of information. In terms of data relevant to managing the spread of COVID-19 there is too much data to navigate and make sense of. CDMPS is assisting Victoria Police in live data integration. Additional analytics are required to extract the relevant information.
Evacuation and logistical modelling for resource management
Through the platform Victoria Police is able to plan and forecast the potential areas for evacuation and track the movement of assets and resources to provide feedback and operational assistance to other agencies such as Emergency Management Victoria, Ambulance Victoria or Department of Health and Human Services Victoria.
The platform is not available to the public, however its capabilities include:
Outbreak trajectory (mock-up geotagged data)
Impacted non-essential business
Clinics and testing centres
Population distribution age over 65 (2016)
Impacted venues
Supermarket
Live alert (EMV & RFS 24h)
Live CCTV
True colour composite 2km last two hours animation
Infrared + Zehr 2km last 2 hours animation
Responding to the 2019/2020 bushfire season
The devastating Australian bushfires exerted huge impacts on not only local communities, but also the millions of people living in Australia. During the months that the fires were active, to respond to this unprecedented disaster, CDMPS researchers developed a bushfire situation awareness application which aggregates live and near real-time information from multiple trusted sources for Australia.
The application is free for public access and provides live feeds, alerts and satellite images that are streamed and visualised seamlessly to represent the real bushfire situation and its impact on our environment.
Following the conclusion of the 2019/2020 bushfire season, CDMPS has been continuing its support of the community by submitting a response to the Commonwealth Government's Royal Commission into Australia's National Natural Disaster Arrangements. The response from CDMPS is made with CDMPS partners in the context of their respective roles in the critical communications sector and in particular the mission critical (public safety) communications ecosystem and the role it performs both routinely and in times of natural disasters and pandemic such as we are experiencing at the present time.
A blueprint for disaster management RD&D supporting the SDGs
The global adoption of the United Nations (UN) Sustainable Development Goals (SDGs) and the Sendai Framework for Disaster Risk Reduction, as well as the establishment of their general inter-relationship, has brought greater awareness to the critical significance of prioritising disaster preparedness and resilience to support countries and communities in their efforts to support sustainable development. With evolving hazard landscapes, including the intensification of disaster frequency and global impact, progressing sustainability is dependent on defining the specific linkages between priority research areas in disaster management and the individual SDGs.
This Blueprint presents the Sustainable Disaster Management Framework that establishes the detailed relationship between disaster management and the SDGs to guide future research, policy and innovation for sustainable development and disaster risk reduction. The framework outlines the steps necessary to answer the question "How can we translate our research into consistent and executable strategies that overcome disaster risks and sustainable development challenges cohesively?" In addition, the framework encourages effective partnerships and guides researchers to a comprehensive integration of the SDGs in disaster-research initiatives.
The Blueprint was initially announced at the 'The SDGs Connectivity Dilemma: Urban Settlements, Resilience, and Sustainability' forum as part of the 8th UN-GGIM Expert Committee meeting at the UN Headquarters in New York. Following this event, we hosted an International Symposium 'A Smart Sustainable Future For All - Enhancing Resilience in a Changing Landscape ', in co-partnership with The World Bank (the Global Facility for Disaster Reduction and Recovery and the Social, Urban, Rural and Resilience Global Practice) where we launched the Blueprint.
Research at the Centre focuses on themes associated with preparing for, responding to, recovering from, and mitigating against incidents across the all-hazards spectrum of emergency/disaster management. This is an important objective in light of major disasters worldwide which have had a significant impact.
Our research units provide the disciplinary home base for most of our research. But in terms of Centre-wide research priority themes or areas, these are:
Understanding and mitigating extreme events and critical incidents
Enabling technology, informatics and analytics
Improving whole-life infrastructure system performance and resilience
Strengthening organisational, institutional and community resilience
Enhancing policy and decision making
CDMPS engages with a wide range of national and international stakeholders and service providers from government and the private sector of disaster and emergency management. We work to engage with industry and communities to grow their understanding of disaster management practices and to improve public safety and community resilience to disasters. The Centre also engages through forums, symposia, workshops and public lectures to reach our broad audience.
The Centre welcomes new opportunities to engage with stakeholders. If you would like to work with us, please contact us at cdmps-info@unimelb.edu.au.
The Centre for Disaster Management and Public Safety provides a specialised training program to practitioners and postgraduate students wishing to work in emergency and disaster management. This includes specialised workshops, symposia and conferences for researchers and shorter training programs for government agencies, private sector bodies and other groups at the executive level.
CDMPS welcomes interest into our training capabilities. If you would like CDMPS to present a workshop or executive training in the area of disaster management and public safety, including the Centre's specific capabilities, please get in touch with us at cdmps-info@unimelb.edu.au.
Contact
Email: cdmps-info@unimelb.edu.au
Address
Centre for Disaster Management and Public Safety
c/- Department of Infrastructure Engineering
The University of Melbourne
VIC 3010