New biomedical research facility secures Victoria's place as world class research destination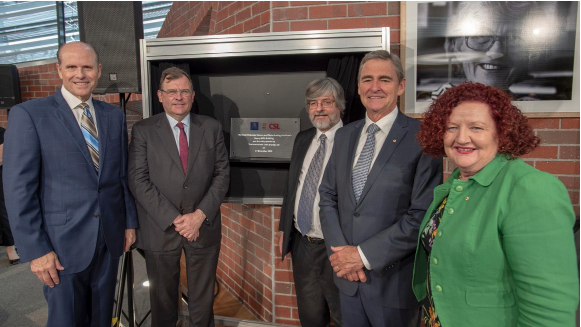 Former Victorian Premier John Brumby has officially opened the new 'Nancy Millis' building, an expansion of the University of Melbourne Bio21 Institute of Molecular Science and Biotechnology, incorporating CSL's Global Hub for Research and Translational Medicine.
Mr Brumby said: "This is an important industry-university partnership that will enable greater knowledge and technology transfer, drive innovation and ensure Australian research is translated into positive health outcomes around the world."
The state-of-the-art, $46 million research facility expands the footprint of the Bio21 Institute by 5000 square metres and will house the University's Margaret Sheil Mass Spectrometry laboratories, CSL's Global Hub for Research and Translational Medicine and shared meeting spaces.
The Bio21 Institute is one of the University's flagship research institutes, and for more than a decade has played an important role in positioning Victoria and Australia as a leading destination for life sciences and biotechnology research.
CSL is the largest investor in biomedical research and development in Australia. In FY2017-18, the company invested more than $US702 million (~$A900 million) globally in research and development, backed by a workforce of approximately 1700 people worldwide.
With the opening of the new facility, CSL expects to more than double the presence of its research scientists at Bio21, from 75 to around 150.
"Universities, government and industry are crucial partners in building and enhancing Australia's innovation ecosystems," said Mr Brumby.
"This collaboration within a shared facility is a great example of the kind of partnerships we want to encourage."
The building will enable the expansion of major technology platforms that underpin personalised medicine and the development of new diagnostics.
University of Melbourne Vice-Chancellor Duncan Maskell said: "Bio21 is delivering a world-class research facility for Australia that will play an important part in advancing biomedical research knowledge and the development of new therapies.
"It provides a concentration of key infrastructure for researchers from the University and from neighbouring organisations, including medical research institutes and hospitals within the Melbourne Biomedical Precinct."
The new facility will help researchers to develop diagnostics and treatments for cancer, infectious, metabolic, autoimmune, neurodegenerative and other diseases.
"The co-location of a large multi-national company with the University is a fundamental aspect to the facility's success and will generate an environment in which other start-ups and small businesses can thrive," said Professor Maskell.
CSL Limited CEO and Managing Director Paul Perreault said: "Our investment in an expanded research presence is informed by our commitment to deliver on our promise to patients. We know from experience that the cross-cultivation of ideas from academia to industry helps translate science into life-saving medicines that improve the quality of life for people with rare and serious diseases.
"CSL is working to maintain a strong pipeline of prospective products in various stages of development. Our collaborations with the medical research community in Australia are critical to this success.
"We envisage an increased presence at Bio21 will facilitate collaborations with research institutes and hospitals and provide an expanded base for new national and international partnerships."
The building is named in honour of Professor Emeritus Nancy Millis, who was one of the first women to be appointed a professor at the University of Melbourne.
Professor Millis introduced fermentation technologies to Australia and created the first applied microbiology course taught in an Australian university.
The Bio21 Institute has dedicated its laboratories to Professor Margaret Sheil - an Australian academic and Vice-Chancellor of Queensland University of Technology.