The University's new Estate Master Plan provides a blueprint for the future development of our campuses and precincts. It seeks to create inclusive, connected and enriching environments that respect the traditional lands on which our campuses stand and recognise the University's strong connection to place.
Our people and surrounding communities are at the heart of our vision. We want to create a greener, safer and more vibrant campus experience, one that will positively impact our communities and inspire our students to consider what's possible.
Shared Place, Shared Future.
The Estate Master Plan
For the past 170 years, the University of Melbourne has played a pivotal role in shaping its city. The University's contributions to cultural, scientific, and medical institutions have benefited the local community, and over time have had a profound impact on the nation and the world. The University's campuses and precincts have been instrumental in generating this impact.
In 2020 the University adopted a new strategy: Advancing Melbourne 2030, articulating our long-term purpose and aspirations and reinforcing the significance of our campuses in representing our institutional identity.
The Estate Master Plan has been developed to help realise these strategic aspirations.
Estate Needs
Over 70 needs were identified as part of the 2022 University of Melbourne estate master planning process. The majority of these needs were found on Parkville campus, where themes of creating a holistic campus experience, respecting heritage and culture, and enhancing campus and precinct cohesion emerged. The master planning process will continue into 2024, focusing on developing and confirming needs across all campuses.

Click on each dot below to find out more about each need.
Reimagining Parkville Campus
The aspiration to transform Grattan Street will bring an additional 22,000 square metres of parkland to the City of Melbourne. This new green space will offer a substantial area for recreational activities and community connection. It will serve as a vital biodiversity connector, fostering ecological diversity and complementing the city's existing green spaces. It will also play a pivotal role in Melbourne's future stormwater design, contributing to sustainable and resilient urban water management.
---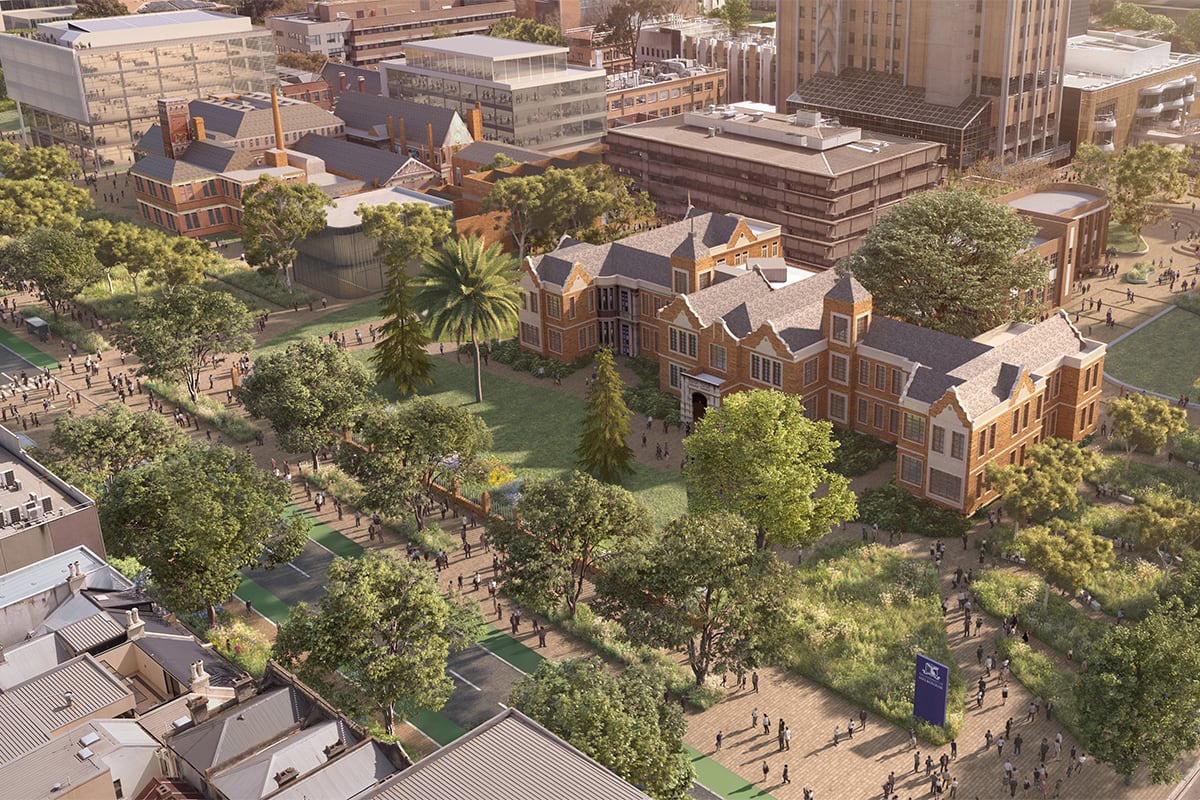 Renders depicting aspirational vision. Credit: Hassell Ltd and Studio Lux
A SHARED CENTRAL PARK
A key element of the future-vision illustrative plan is reinforcement of the public realm. This culminates in the creation of a green campus core as a central park that provides campus continuity to the north and south of Grattan Street. In partnership with the City of Melbourne this will provide an opportunity to explore expanded shared spaces, improved shading and a focus on bike paths, as well as planting to support increased biodiversity.
---
Renders depicting aspirational vision. Credit: Hassell Ltd and Studio Lux
FUTURE PARKWAY
A green spine connecting enhanced outdoor spaces joins directly to the heart of the historic Parkville campus, from Old Quad, through South Lawn, down to the newly created Grattan Parkway and across into University Square. This culminates at a central park as a green core that provides campus continuity and close amenity to University, local, and city communities.
---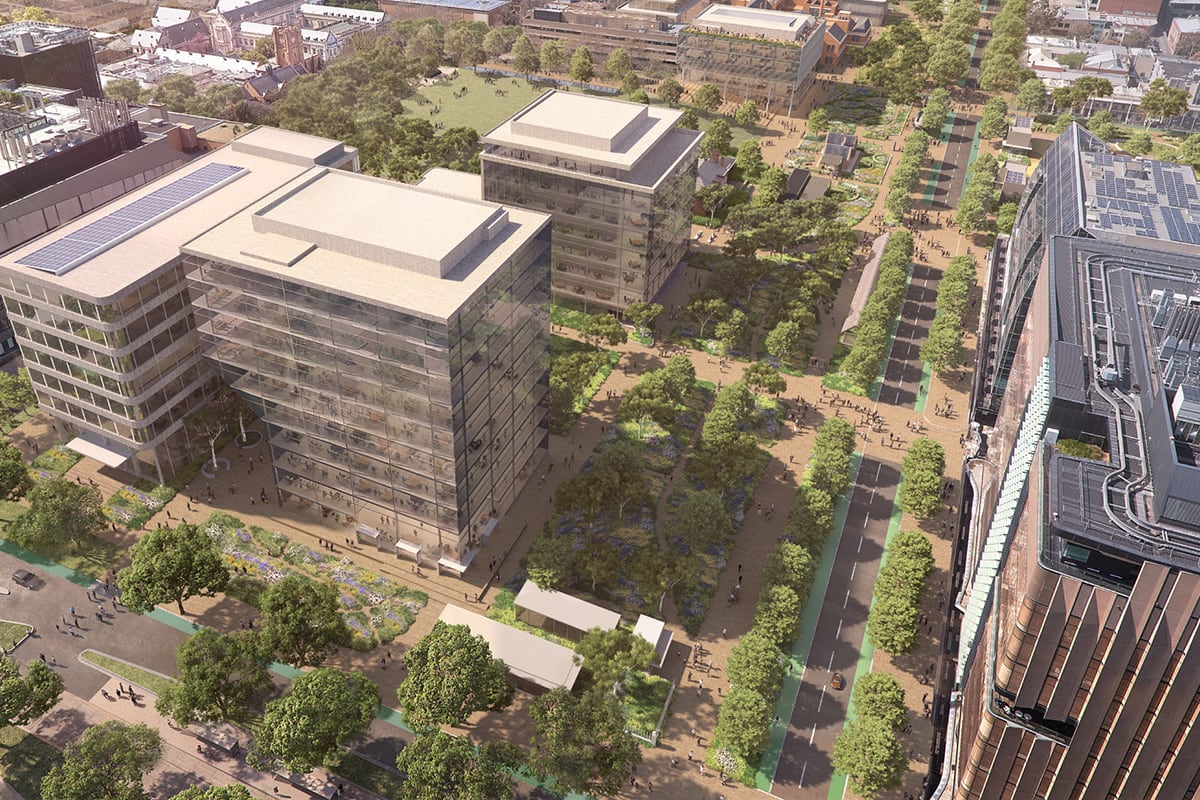 Renders depicting aspirational vision. Credit: Hassell Ltd and Studio Lux
SOUTH-WEST CORNER REDEVELOPMENT
Retirement of the University of Melbourne Medical Building, Old Microbiology Building and Old Howard Florey Building on the south-west corner of the Parkville campus provides opportunities for further infrastructure investment by the University and for the broader Parkville Biomedical Precinct.
A newly landscaped forecourt and arrival space will be created adjacent to the Melbourne Metro Parkville Station exit and tram super stop on the corner of Grattan Street and Royal Parade. New development next to Haymarket roundabout will form a new north-south connecting walk from the urban campus south of Grattan Street to the historic Parkville campus north of Grattan Street.
---
Renders depicting aspirational vision. Credit: Hassell Ltd and Studio Lux
RENEWAL OPPORTUNITIES
To the north of the historic Parkville campus, the future vision aims to enhance pre-existing walkways and courtyards within the public outdoor spaces. The University of Melbourne's new science facilities will reinvigorate the centre of Parkville's historic campus, with flow-on effects to the nature of the surrounding public spaces. Renewal of sports facilities, and better and safer landscape connections between the colleges and the principal campus will also be key inclusions.
In reimagining the series of courtyards and public spaces in this area, the ambition is to reinforce the edges and axis of Masson Road as a key gateway and entry into the Parkville campus which would lead directly to the Old Quad. A cohesive landscape along Masson Road has the potential to create a significant new linkage between Swanston Street and the University's historic core.
Response Icons Key
Public realm

Diversity + inclusion

Flexible workplace

Heritage consideration

Re-life or retire

Learning experience upgrades

Distributed hubs

Leveraging partnership
Talk to us
Please speak to our Estate Master Plan team if you have any questions or queries.