As a teen in a Kenyan refugee camp, Nyadol Nyuon nourished a quiet hope: that of becoming a lawyer. Having found a home in Australia and secured a place in the Juris Doctor (JD) program at the University of Melbourne, her hopes began to bud. And, with the support of a series of graduate scholarships, her aspirations would flourish into so much more.
Nyadol is one of over 40 students who has received the Eleanor and Joseph Wertheim Scholarship, established with a bequest from Dr Eleanor Sabina Wertheim to support single, mature-aged, female students who experience disadvantaged circumstances. Access scholarships are vital in empowering future changemakers, like Nyadol, through the transformative impact of education.
For as long as she can remember, Nyadol Nyuon has lived life looking and moving forward. Having escaped a bitter war for independence in southern Sudan, Nyadol's mother and siblings sought sanctuary at a refugee camp in Itang, Ethiopia. It was there, in camp, that Nyadol was born in 1987.
Four years later, local conflict forced the family to take a gruelling 40-day trek back to Sudan and eventually on to Kakuma, Kenya, one of the world's largest refugee camps.
In 2005, Nyadol and her family finally found a place of permanence, resettling in Australia as part of the Federal Government's Refugee and Humanitarian Programme. From the moment she arrived, Nyadol has chased down her dreams of studying law with a resolute focus. Given her determination and resilience, earning a place at the Melbourne Law School in 2011 surprised few. For Nyadol, it came as a delightful shock.
"It has to be one of the happiest moments of my life. To gain my place felt like coming full circle."
Even self-belief needs support
Adapting to university life wasn't as easy as Nyadol had imagined it might be. Nyadol harboured doubts she could succeed. However, exposure to her peers made an indelible impression on Nyadol's confidence and work ethic.
"I was surrounded by incredibly intelligent people who constantly expected the best of themselves. They didn't aim to get passes. They worked to get high distinctions. It was a revelation to me that you didn't have to settle for anything less than excellence because of assumptions or stereotypes, or that I should expect a free-pass on hard work because I'd survived a refugee camp. That kind of mental shift was important for me."
Equally as important was the belief placed in her by others, most notably through not one, but three distinct awards that opened the doors to the University of Melbourne for Nyadol. Combined, the Eleanor and Joseph Wertheim Scholarship, the Maisie Fawcett Scholarship and the Melbourne Graduate Access Bursary, signalled an abundance of confidence in Nyadol's potential and supplied extra momentum in her pursuit of her legal career.
"I can't say enough about how important those scholarships were to me. When you arrive as a refugee, you really have nothing – no history in the new country, no savings, no family members with established businesses. You really are on your own. And sometimes you are expected to support your family, rather than have parents supporting you. Without that financial support, I simply wouldn't have been able to afford books, a laptop, or even basic things like food."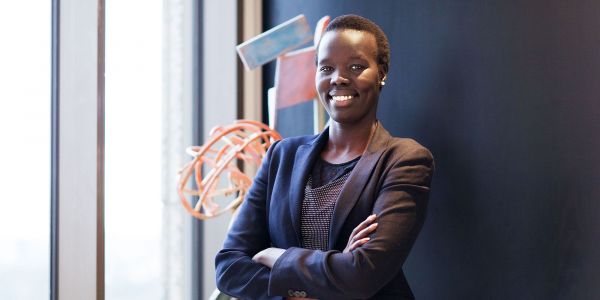 A larger vision of a fairer world
The faith placed in Nyadol has since been repaid many times over. Having graduated with her Juris Doctor from the Melbourne Law School in 2015, Nyadol launched her career as a commercial litigator for a prestigious Melbourne law firm.
As Director of the Sir Zelman Cowan Centre at Victoria University (from 31 January 2022) and as Chair of the Harmony Alliance, a national coalition advocating for migrant refugee women, Nyadol is committed to effecting bigger structural changes toward a more just and inclusive Australia. This, she says, is a cause every Australian should actively participate in.
"If you look at what's happening across the western world now – the rise of far right groups, the rise of inequality, the challenges of climate change – these are bringing forth the very question of what our future will look like. If you think that you don't have a role in it, someone else is going to define your future for you. That's why it's important all of us should be involved."
Pressed further on the subject, Nyadol's thoughtful and eloquent response is a reminder that, like her work ethic at university, none of us should settle for anything less than excellence.
"That quote from Martin Luther King about the arc of the moral universe being long, but bending towards justice – I believe in that, but the bend is not inevitable. It has to be bent by the actions and contributions we make. It requires people committed to change to drive it that way. Joining climate change groups is continuing that work. Writing letters. Voting. Recycling where you can. Teaching your children how to look after the world and how to be better people. Holding on to a larger vision of a fairer world. I think that is the opportunity we need to approach and achieve it with action."
Advocating for the unheard and vulnerable has become an integral part of Nyadol's identity – so much so, she can't imagine a life without that important work.
As for what else the future may hold, Nyadol is comfortable with not knowing the answer.
"Now that I have two children, I want to take the time to be grateful for everything that has happened. It's been 15 years since I left the refugee camp, where I never thought I could complete university. Goals and dreams I never thought would come true now have. Until now, I don't think I've taken the time to reflect on that. In a good way, I'm getting to the point where I can accept that it's OK that I'm no longer running from a refugee camp. I'm no longer in survival mode. I can look back, rest, play with my kids and enjoy life. All these beautiful little things that, having been a refugee for such a long time, had really denied me."