Undergraduate science students get research fund boost
The University of Melbourne has been awarded a four-year grant from the Amgen Foundation to provide hands-on research experience in a laboratory to undergraduate science students across Australia, New Zealand and Oceania to inspire the next generation of innovators.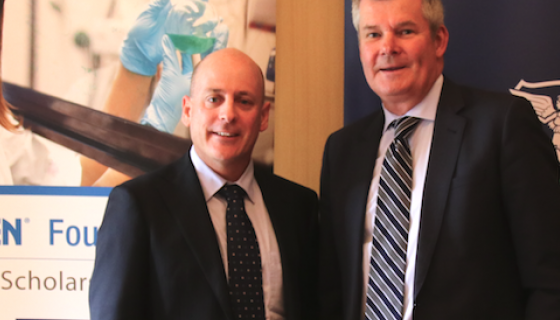 The Amgen Scholars Program provides a unique opportunity for students to spend a summer at one of the world's premier research institutions to engage in the process of discovery and build intellectual connections with some of the world's most accomplished scientists.
The University of Melbourne is now one of 24 elite institutions across the US, Europe, Asia and, for the first time, Australia and Canada, to be an Amgen Scholars partner. Through this new four-year commitment of more than $21 million, 1 500 undergraduates from hundreds of colleges and universities will engage in research opportunities in biomedical and biotechnology fields.
The University of Melbourne program will begin in January 2020. Students who have completed the second year of an equivalent Australian science undergraduate degree will be eligible to apply for the program, which includes eight weeks accommodation during their research project. There are 15 places available each year.
University of Melbourne Pro Vice-Chancellor (Research Collaboration and Partnerships) Mark Hargreaves said the program will provide invaluable inspiration and experience to undergraduate students.
"Having watched the success of the Amgen Scholars program overseas, the University of Melbourne is excited to bring participants from all over Australia, New Zealand and Oceania to experience research first-hand," Professor Hargreaves said.
"The students will benefit from undertaking a research project in the world's most liveable city and in the heart of Melbourne's Biomedical Precinct – the largest in the Southern Hemisphere – with the mentorship of leading scientists, being part of a cohort-based experience, participating in seminars and networking events.
"The program will culminate in a symposium in their respective region where they meet their peers, learn about biotechnology and hear from leading scientists in both industry and academia."
Amgen Australia Managing Director My Linh Kha welcomed the partnership.
"The Amgen Scholars Program has already had a positive impact on the education of scientists around the world," she said.
"We are delighted that the program is now available in Australia and are proud to be partnering with a premier institution such as the University of Melbourne.
"Amgen has a strong commitment to research and education in Australia. The Amgen Foundation's philanthropic strategy is to provide more opportunities for young Australians to develop the skills they need and enhance Australia's capabilities in scientific innovation."
University of Melbourne Faculty of Science Assistant Dean of Research and Industry Gavin Reid said students would be able to immerse themselves in a range of research topics during their scholarship.
"Over 35 research leaders from across our University and the Biomedical Precinct have joined the program to mentor these aspiring scientists, providing experience in fields such as drug discovery, structural and chemical biology, medicinal chemistry, bioscience discovery, genomics, proteomics and metabolomics, nano- and materials science, biotechnology, computational science, biomedical engineering and clinical research," he said.
The University of Melbourne will be accepting applications for the 2020 Amgen Scholars Program from 1 July 2019. For more information about the Amgen Scholars Program, visit www.AmgenScholars.com and follow us on Twitter at @unimelb and @AmgenFoundation.