FREO2 project a finalist in the Macquarie 50th Anniversary Award
A University of Melbourne project has been selected as a finalist in the Macquarie 50th Anniversary Award.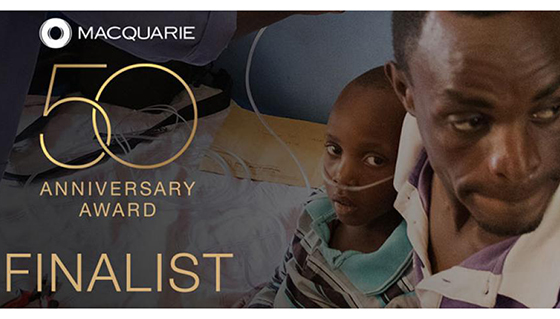 The Macquarie Group Foundation is awarding five non-profit organisations $10 million each to fund projects globally that address an area of social need. From an initial applicant pool of 1000 the judges have selected 12 finalists, with the five winners to be announced in August.

The University's project is 'FREO2: Saving the lives of children with pneumonia', a unique scientific innovation which has the power to stop the preventable deaths of a million children each year to pneumonia. FREO2 technology can run on any energy source, providing a stable medical oxygen supply which is otherwise impossible in regions with unreliable access to power.

Developed by University of Melbourne physicists and global health experts, the FREO2 LPOS (Low Pressure Oxygen Store) is currently being used in remote medical facilities in Uganda to provide reliable oxygen to babies and young children suffering from pneumonia.

The team is expanding the project to other countries, and if successful, the award will enable the rollout of FREO2 technology across sub-Saharan Africa and the Pacific, using a social enterprise model that empowers local communities to produce medical oxygen, saving countless lives.

During the next stage of the competition, the Macquarie Foundation will conduct a site visit to the University to explore the proposal in more depth and meet our leadership team.