The wonders to be found in the microfilm libraries of universities are boundless. For historians, they are a portal into the past to explore long forgotten facts, experiences and opinions, and can often lead to a discovery that merits further attention from an enquiring mind.
For historian Bronwyn Beech Jones, recipient of the Hansen Trust PhD Scholarship in History, her adventures in the microfilm collection during research for her honours thesis turned up an idea she couldn't let go of.
For Bronwyn, the discovery of the Soenting Melajoe newspaper, which translates to Malay Headdress, has resulted in her undertaking a PhD, researching the life stories of women and teenage girls in the early-twentieth century in Sumatra – a task that wouldn't be possible without the support of the Scholarship.
Bronwyn says she has uncovered a rich source of information that sheds light on the importance women and communities placed on girls' education 100 years ago and their ever-evolving sense of who they were as women.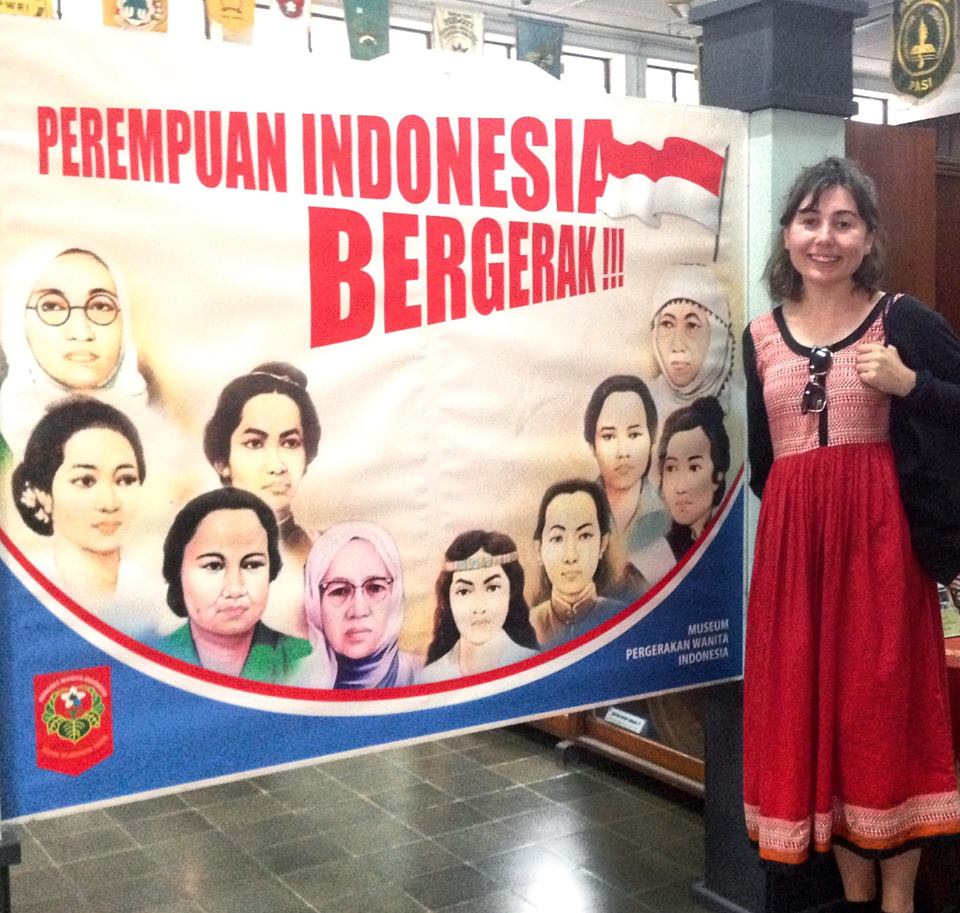 Soenting Melajoe, along with two other newspapers she unearthed in archives, documents the community activism and initiatives that were employed between 1912 and 1928 to provide education and training in weaving and lacemaking in small schools throughout the Indonesian provinces of West Sumatra, Bengkulu, and North Sumatra.
Bronwyn discovered many of the schools provided scholarship programs to support students from vulnerable backgrounds who otherwise would not have been able to attend and learn, including widows and orphans.
She has been able to piece together a partial picture of the different types of crafts schools and how they were connected by networks of influential leaders.
"These schools were important sites of indigenous agency which, I argue, have been underemphasised in accounts of women's history in Sumatra and, more broadly in the Netherlands East Indies in the early-twentieth century," says Bronwyn.
"The newspaper was edited by two women, education activist Roehana Koedoes and journalist Zoebeidah Ratna Djoewita. Engaging with their writing has the potential to enrich our understanding of women's activism and everyday life in the Netherlands East Indies. Equally, their writing and life stories are important parts of local and family histories."
Thanks to the generosity of the donors, Bronwyn has been able to access the support and connections needed to pursue this research and build her career as a historian.
"The Scholarship has allowed me to concentrate on writing my thesis and devoting time to devising presentations without financial concerns," she says.
Bronwyn's research required her to move between Malay, Minangkabau, Dutch, and other languages, and to read a number of issues to try to identify the threads of individual girl's and women's lives and opinions.
It takes time and money and, thanks to the support provided by the Scholarship, Bronwyn has been able to connect with communities in the area and present her findings. She travelled to the region several times, presenting at two forums to discuss a publication about women's responses to domestic violence in Soenting Melajoe.
While that activity was curtailed by the restrictions imposed due to the pandemic, Bronwyn has been able to initiate alternative fieldwork plans. With the help of the Scholarship Bronwyn will work together with colleagues in Indonesia and employ a research assistant to consult with community members in West Sumatra to keep the momentum up on her work.

Bronwyn has also been able to draw on the experience of her Hansen mentor, Associate Professor Jenny Spinks, and has developed a relationship with the Arts West Collections Manager, Steve Martin, in the Faculty of Arts.

Together they are working on an exhibition exploring post-World War II Australian and Indonesian student connections, which Bronwyn says will help her with future community-centred projects.
"This opportunity demonstrates how the Scholarship has provided me with opportunities to reflect on the skills I want to develop and the resources to put this into action," she says.
Through her PhD, Bronwyn has also had the chance to tutor in History, Asian and Gender Studies, and Indonesian. She says this has deepened her love of history and inspired her research endeavours.
"I learn so much from students' perspectives and feel grateful to hear their own experiences and arguments which often inspire and re-engage me with the power of learning about the past."
Bronwyn's Scholarship, funded by the Hansen Trust, has been established in perpetuity to transform the teaching of History at the University of Melbourne. As a recipient, Bronwyn has been able to deepen engagement with her learning, and access a range of initiatives in the Faculty of Arts to build excellence and innovation in teaching and learning programs. In a time of great global upheaval, the Scholarship has also provided Bronwyn with the support needed to continue her work.
"Since the pandemic, I have been able to keep on track with my thesis, been published in an edited volume for the first time, contributed to the History Teachers' Association of Victoria and Tasmania Journal, and have begun three other draft publications," says Bronwyn.
That I have been able to stay focused is testament to the immense value of this Scholarship, not only in financial terms but also in the motivation it gives me to contribute to history writing and foster historical understanding.
– Bronwyn Beech Jones, recipient of the Hansen Trust PhD Scholarship in History